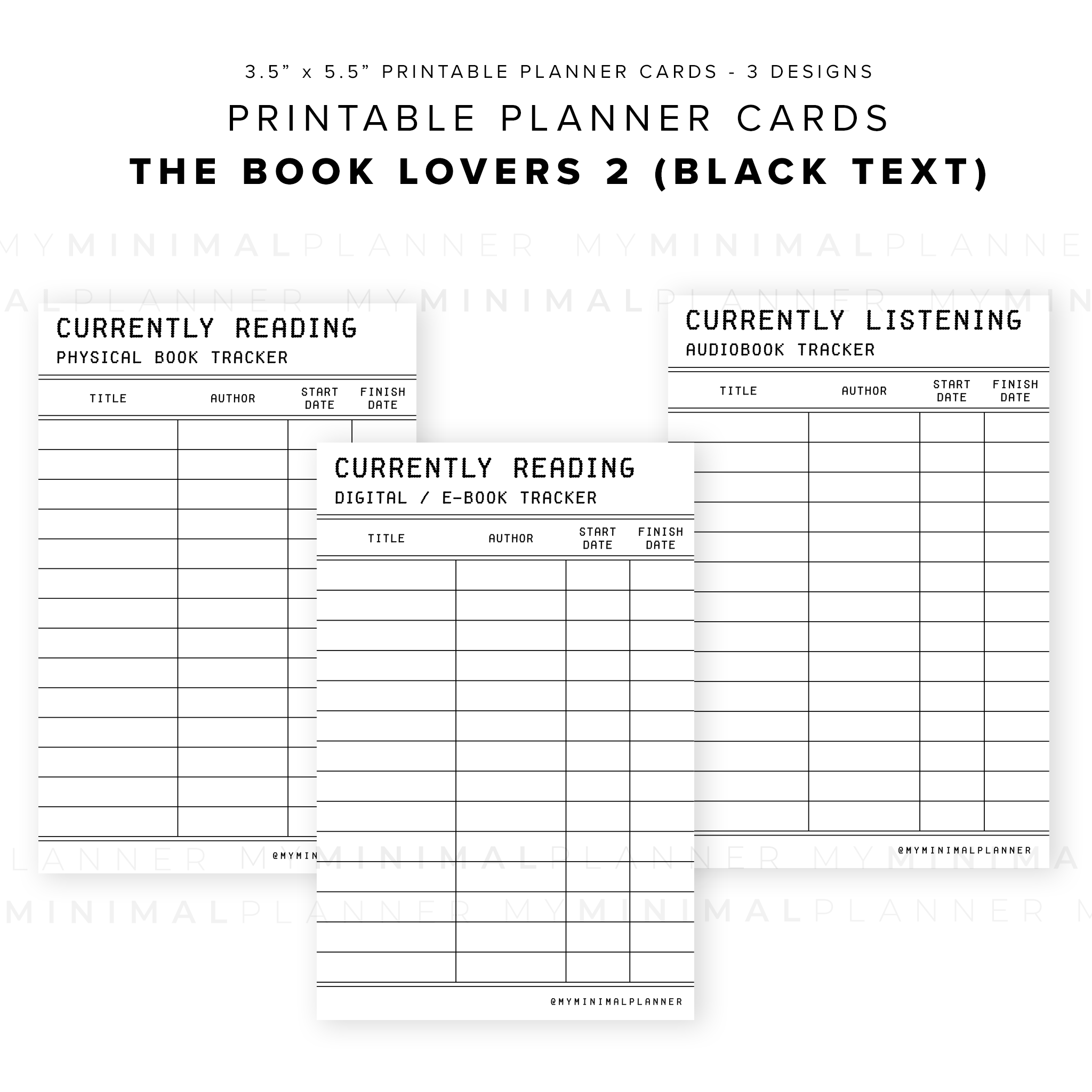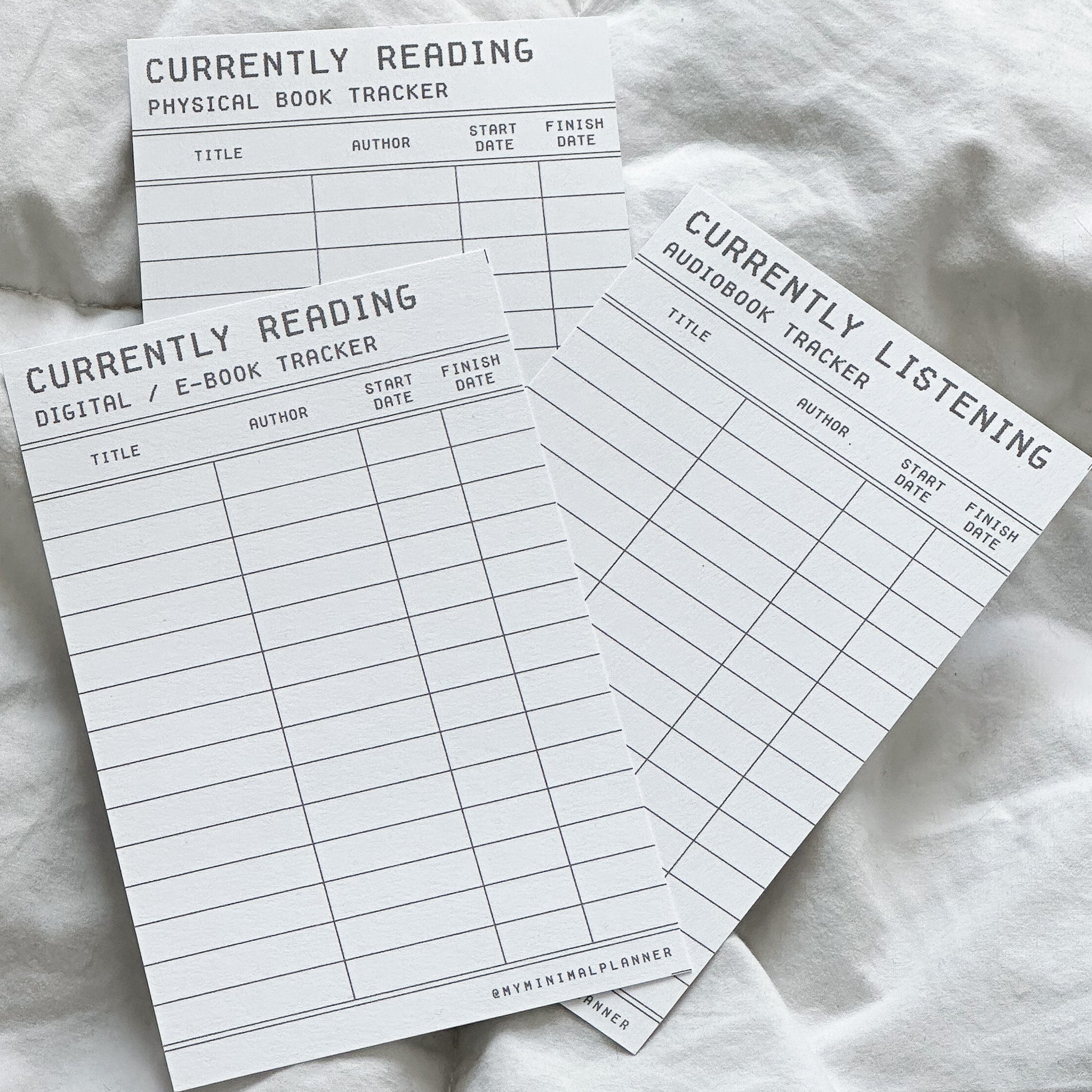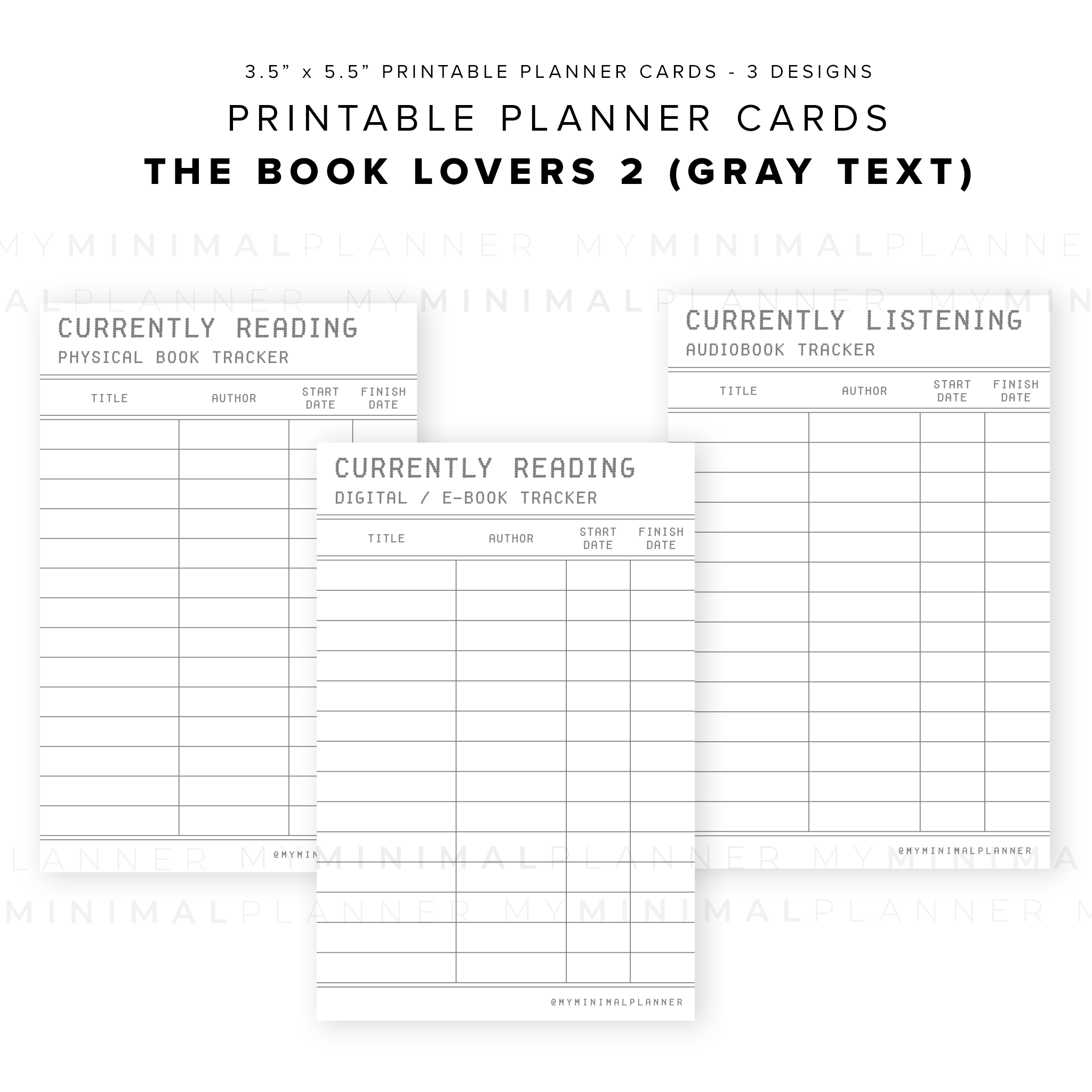 PPC10 - The Book Lovers 2 - Printable Planner Cards
The Book Lovers 2 - Printable Planner Cards (3.5" x 5.5") - PPC10

This one is for all the book lovers out there. This is a set of printable planner cards, sized at 3.5" x 5.5" inches. You will get three different designs - For tracking all your current reads / what you are currently listening to at the moment. You have a space to track all your books along with spaces for the author, start date, and finish date.

*You will get two sets of designs, black and gray text included.

Designs - Black and Gray Colors Included:

Currently Reading - Physical Book Tracker: Track your borrowed books along with the borrow date / return date

Currently Reading - E-book Tracker: Track your next reads and books on this card
Currently Listening - Audiobook Tracker: Track down your monthly reads and how many books you'd like to read
Disclaimer / Information:
Designs are meant to be printed one-sided
Designs are meant to be printed on US Letter Size Paper (8.5" x 11")
Each card is provided with it's own crop marks
These designs are best printed on a heavier card stock paper for maximum use/wear
No physical product will be shipped. Files come in a .zip format with multiple PDF files.
No physical products will be shipped -- all files are printable/downloadable files
Products are for personal use only -- Sharing, copying, distributing, tracing, duplicating, or replicating are strictly prohibited
There are no exchanges, refunds, returns, or cancellations
No accessories in photos are included
All designs are designed for printing on US Letter Paper (8.5" x 11")
There are no changes to any inserts and designs will come as is
Pictures and prints may appear slightly different depending on your computer and printer
Sticker Information:
Our stickers are water-proof and are printed on glossy vinyl paper and finished with a glossy laminate to give them more durability and protection. However, this does not mean that our stickers are indestructible :)
If you are putting our stickers on a water bottle, please keep in mind that with constant use and exposure to water/liquids; stickers may lose their ink, adhesive, and wear over time.
Stickers are NOT dishwasher safe.
Our stickers are made in-house and handmade with love! Please be aware that some small imperfections may appear.
Please refer to our FAQ page for more questions and answers regarding our stickers.
Digital Products:
Print out our designs for functionality or decoration!
Physical Products:
Stickers: Stickers are perfect for planners, journals, e-readers, water bottles, and laptop decoration :)
Please tag us on instagram @myminimalplanner to share your ideas, inspiration, and decoration with us!
Please refer to our banner located at the top of the page for the most updated processing and shipping times.
Standard Flat Rate Shipping -- We ship with USPS
US Customers only: Orders over $35 qualifies for free shipping (excludes taxes and shipping)
We are only shipping to the US and select international countries
For a more detailed description of our shipping policies and FAQ, please visit our Shipping Policies Page.
Digital Products:
Due to the nature of our products, we do not accept any returns, refunds, exchanges, or cancellations
Physical Products:
We do not accept any returns, refunds, exchanges, or cancellations, but if you come across any issues or concerns, please do not hesitate to reach out to use using our contact form
For a more detailed description regarding our policies, please visit our Return/Refund Policy page.